Christo's Clothesline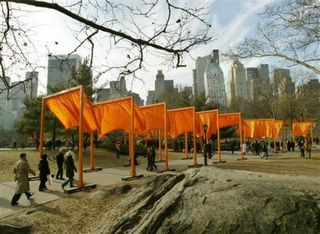 Christo Hangs His Laundry

From USA Today:

The weather was windy and cold as the first fabric dropped from one of the 7,500 16-foot-high gates, creating what the artists billed as "a visual golden river" along 23 miles of the park's footpaths. More than 1 million square feet of fabric was used by the artists.
Its official title — "The Gates, Central Park, New York, 1979-2005" — refers to the artists' conception of the idea 26 years ago. It was expected to take about two hours to drop the fabric from all the gates.
"It's a waste of money, but it's fabulous," said student Shakana Jayson. "It brings happiness when you look at it."

"It's a bit insane, but that's why everybody is here," said Ali Naqui, who was brought to the unveiling against his will by his fiancee.
Bold, avant-guarde art, or waste of money?

You've got to give the guy credit for visually stunning, creative ideas, but the (clothes) line between art and crap can be as thin as orange fabric. What do you think?